Hotels and Accommodation choices nearby
There are a huge number of choices of place to stay on the island from up market resort style accommodation to the smallest B&B or private stays. Try booking online through a online travel agent, or hunt for the specific place you want to stay and deal directly with the owner. In todays modern connected world even the smallest inn keeper is keen to use the internet, email, social media and more to connect with their guests.
Close by
These options are actually within the nearby town of Karavomylos, which is just 25 walking from the larger town of Sami.
Diamanto Complex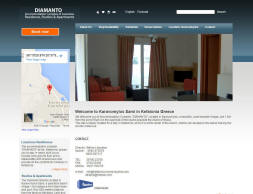 This three star accommodation complex is so close it is actually within easy walking distance. Featuring of course a lovely swimming pool it is set back two roads from the sea and surrounded by quiet residential streets. Family run it is friendly and inviting. You won't regret choosing to stay here.
At only 5 minutes walk, about 400 meters, it is the best choice if you want to visit the cave more than once on foot.
Website: kefalonia-rooms-studios.com
Tel: +30 2674 022758
Hotel Green Bay Kefalonia
About one kilometer away, most of which is along the quiet ocean side road, this is a great choice putting it just outside the town and making it even quieter than other nearby choices. A small hotel comprising only five small two story buildings, and of course a lovely swimming pool, it rests on the hillside offering great views over the sea. The simply furnished rooms are clean and tidy and offer free aircon and wifi. As is common in this part of the island the swimming pool uses water pumped directly from the sea giving you the experience of the clear salt water of the Agean, without leaving the safety of the pool!
Walking into the town takes 10 minutes and another 25 minutes will bring you to the restaurants and bars of Sami.
Website: hotelgreenbay.com
Tel: +30 2674 022229
Athina Hotel
The Athina Hotel & apartments complex is located in Karavomylos village near to Sami town and to the awarded Antisami beach, Melissani Lake and Drogarati cave which are some of the most attractive sightseeing of Kefalonia Island. This hotel in Kefalonia provides you with spacious fully furnished accommodation for 2 up to 6 persons and ensure a relaxing and memorable lodging stay in Kefalonia Island.
+30 2674 022779
Ionian Emerald Resort Hotel
Ionian Emerald Hotel is a beautiful hotel in Karavomylos Sami in Kefalonia, offering a high standard of hospitality, in an environment where warmth and fine taste surround the guest from the moment they enter the hotel.
+30 2674 022708
Sami Beach Hotel Hotel
This small independently run hotel has been in the Dorizas family since 1988. At a peaceful location right by the Ionian sea and surrounded by the neighboring green mountains, our guests find peace and tranquility and enjoy authentic Greek hospitality.
Despite the name, this hotel is actually located between the two towns, rather nearer to Karavomylos and within good striking distance of the cave.
+30 2674 022802